Cranial-Sacral Therapy has helped those with:
Chronic headaches and migraines
Tech Neck
Sinus problems
Chronic neck and back pain
Chronic Fatigue
Fibromyalgia
Eyestrain and Eye Twitches
Stress
TMJ Syndrome
Depression
Neurological concerns
Cranial-Sacral Therapy, also referred to as Cranio-Sacral Therapy (CST). CST encourages the body's natural healing function via the central nervous system. Like Polarity Therapy, Cranial-Sacral Therapy has its roots in osteopathic medicine. Different than massage techniques, CST is a specialized trained touch unlike anything else. The Therapist "listens" to the body's natural cranial and spinal rhythm, allowing the structure to release tension and encourage the body's innate ability to self-heal.
The Central Nervous System (CNS) supports the body's vitality and health systems. Any imbalance or dysfunction in this system can cause sensory, motor or neurological disabilities.
The brain and spinal column has been regarded by contemporary researchers as well as ancient mystics and physicians as the transmitter of the body's life energy and consciousness.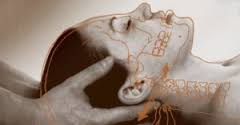 CST sessions can be done with the client fully clothed. Please wear clothing with a natural fiber blend. i.e. cotton Please avoid wearing perfume and hair products.)